Natural wine, while not a new occurrence, is definitely enjoying time in the limelight—and the natural wine bars popping up in KL are proof of that. You might have heard the terms "orange wine" and "pét-nats" floating around the natural wine sphere, but what exactly are they? Can oranges even be turned into wine? So many intriguing questions. Below, we go through a short and sweet introduction before telling you where you can get them in KL.
What are Natural Wines?
Contrary to popular belief, natural wines are not a new thing—in fact, the conventional wines that we know today are actually newer than natural wines, which are also known as traditional wines. Long before sulfites were invented, people in the old days were already fermenting grape juice without additives. The fermentation occurs naturally, and there is generally zero intervention in the winemaking process to tweak the flavour.
However, this zero-intervention is also why natural wines have the reputation of being funky and "cloudy", the latter a result of the wine not being filtered. With no tweaking to the flavour, you never know what you're going to get—and you certainly can't expect your usual Pinot Noirs to taste like their regular profile, neither will you get a natural wine that's completely clear.
In modern-day natural winemaking, some winemakers will add minimal sulfites just to make it last a little longer. In fact, sulfites are actually a natural-occurring byproduct of fermentation. Anything between 10 to 35 parts per million (ppm) is acceptable in natural winemaking. For comparison, conventional winemaking uses ten times more sulfites. Some modern natural winemakers will also filter their wine, so not all natural wines you find these days are cloudy—it's just a matter of house preference.
Notable Natural Wine Styles to Look Out For
If you're new to the natural wine scene, chances are you will come across some wine styles that you're unfamiliar with. Here are some to look out for, and what they mean:
Orange Wine
It is one of the most popular styles of natural wine but contains no orange in the winemaking process. Orange wine gets its name from its colour instead, gorgeous variations of orange and amber hues as a result of the way it's produced. It's made the same way as red wine—the grapes are left in contact with their skin during fermentation—except instead of red wine, orange wine is made with white grapes. As a result, orange wines have more tannins than regular white wine, giving them a drier mouthfeel and slightly bitter flavour. Orange wine varies in flavour, so there isn't a specific flavour profile to look out for.
Pét-Nat
Are pét-nats the original champagnes? We'll leave you to decide. This sparkling natural wine is bottled before the fermentation process is finished, with the excess carbon dioxide produced from the leftover sugars from the grapes giving pét-nats that light fizz. It's been said that champagne-making took some notes from pét-nat, as the latter originated from Limoux in France during the 16th century. Unlike champagne, which is fermented twice, pét-nats are only fermented once.
Glou-Glou
The name is derived from the sound "glug glug", which came from the fact that Glou-Glou wines are easy to drink—they're light, fresh, and tend to have a lower ABV (alcohol by volume) percentage. It's the sort of wine you drink without thinking too much. Make no mistake, though, these are still pretty great wines.
Amphora Wines
What makes amphora wines so unique to other natural wines is the vessel it's aged in. While most wines are aged in a metal vessel, amphora wines are aged in a clay vessel shaped like a large, pointed vase, which dates back to the 4th millennium BC. The clay material is porous enough to allow the air within to circulate, which softens the wine tannins, making it well-rounded and smoother to drink.
Natural Wine Bars in KL to Try
Now that you're armed some knowledge of natural wine varietals out in the wild, it's time to put your palate to the test. The natural wine movement in Malaysia is expanding, with more restaurants and bars offering a healthy selection of labels to choose from. More bars are also going in the natural wine-only route, so you can really sink your teeth into the ranges available. The best part? These natural wine bars in KL come with a team of experts who are more than happy (and ready) to recommend the perfect natural wine for the flavour profile you're feeling that day.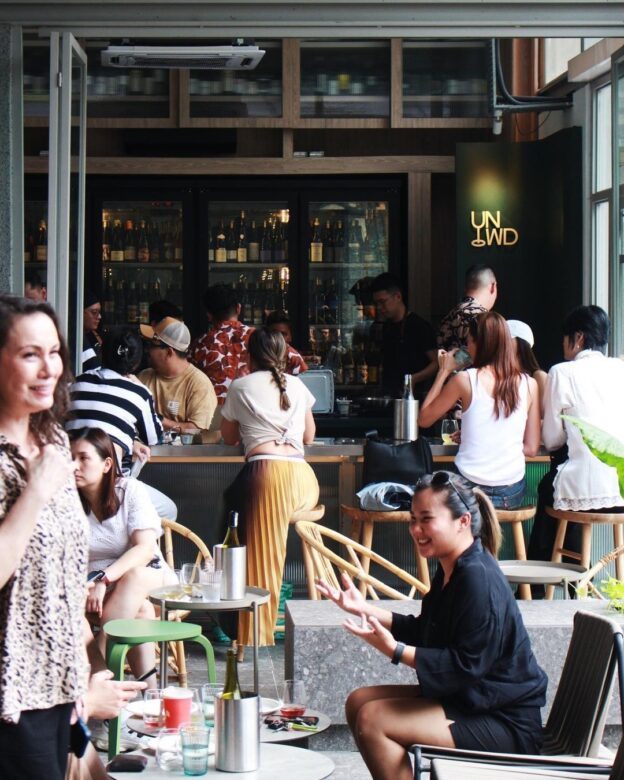 One of the early purveyors of natural wines in KL, Unwined found its home in the uber-cool APW Bangsar area. With a small shop that encourages conversation between its patrons, Unwined was designed to be the place to wine, while picking out dining options from the other eateries in the vicinity. Don't be surprised if you see patrons offering to let other patrons sample their bottles—after all, good natural wine needs to be shared. You might be spoilt for choice with the varietals and extensive menu they provide, but help is always around in the form of Unwined staff members. Just tell them what you're feeling (whether it's zesty, fruity, sparkling, light, dry, and so on) and they will pick out a few for you to try.
Address: B-01, 29, Jalan Riong, APW Bangsar, 59100 Kuala Lumpur.
Opening Hours: Tuesday – Thursday (3PM – 11PM), Friday (3PM – 12AM), Saturday (2PM – 12AM), Sunday (2PM – 11PM). Closed Mondays.
Unwined's latest offshoot is fairly new and only opened in mid-2023, but is already looking promising in the scene. While Unwined KL offers only drinks, Unwined Plus aims to please the gastronomically inclined with a selection of tasteful small plates to go with their natural wine bottles. The menu changes fairly often according to the availability of seasonal ingredients, so be sure to check their Instagram profile often for updates. The wine selection is hearty, and what makes Unwined Plus more appealing to the new natural wine drinker is that they offer house pours by the glass. This way, you can have a taste of what you might like before committing to a whole bottle.
Address: 7, Jalan Telawi 2, Bangsar, 59100 Kuala Lumpur.
Opening Hours: Wednesday – Sunday, 5PM – 11.30PM. Closed Mondays and Tuesdays.
If you like great food and great wine, Basic Wine Store in Mont Kiara is the place to be. With kitchen prowess from the founders of Table & Apron and wine expertise from local wine importer Corevino, you have a solid partnership that brings you the best of both worlds in a cosy shop. Alongside a healthy list of sharing plates consisting of European-styled cuisine, you can also pick out tinned seafood to have with sourdough bread and natural wine of your picking. Speaking of the latter, available bottles are easily displayed on the shelves with prices for your easy viewing, and they also offer house pours by the glass. Be sure to follow Basic Wine Store on Instagram, as they often have guest winemakers over for tasting sessions for you to partake in.
Address: Lot 13A, Ground Floor, Arcoris, Mont Kiara, 50480 Kuala Lumpur.
Opening Hours: Wednesday – Thursday, Sunday – Monday (3PM – 11PM), Friday – Saturday (3PM – 12AM). Closed Tuesdays.
While Murky Wines is technically a bottle shop located in Gasket Alley, Petaling Jaya, patrons are invited to grab a seat and sip on some wine. In fact, they sometimes invite you to BYOC (bring your own chair) too. Inside the intimately dim bottle shop—a design preference, and you'll discover firsthand that it's a stylish little nook—bottles of natural wine are displayed unpretentiously. It's a very casual setting where you can pick up your natural wine bottles to go or open them right away and sip on them outside the shop.
Address: The Gasket Alley, Lot 15, 13, Jln 13/6, Seksyen 13, 46200 Petaling Jaya, Selangor.
Opening Hours: Thursday – Saturday (6PM – 11PM), Sunday (1PM – 6PM). Closed Mondays.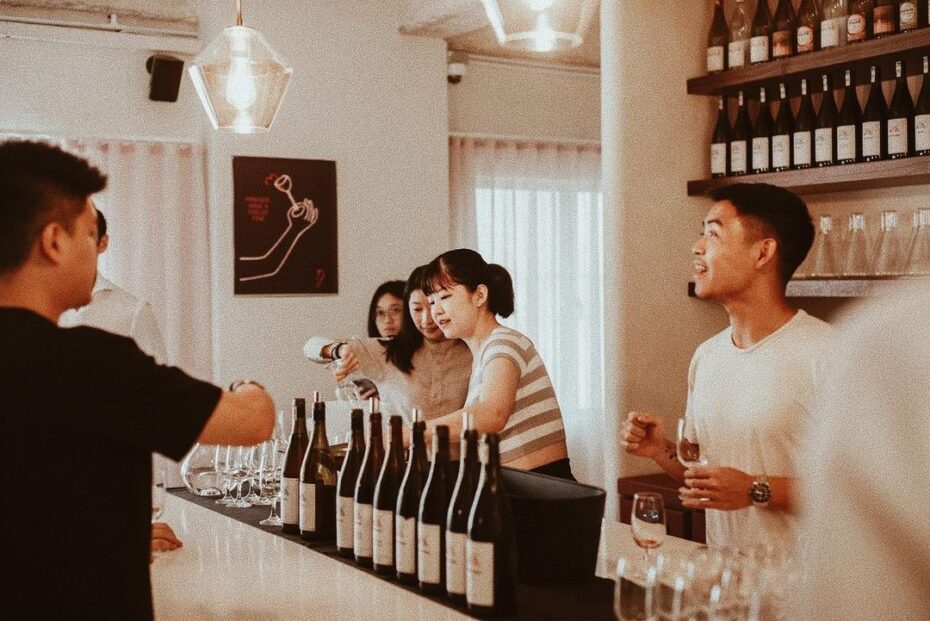 It takes a bit of work to find this hidden natural wine bar, but we promise it's worth it. Here's a hint: When on Jalan Bangsar, look for a black door with an outline of a spilt glass of wine, and you're on the right track. Juliet Wine Bar was opened by friends Charlotte and Tiffany, who wanted an unpretentious place for people to enjoy wine casually. As proof of that, the natural wine categories are "Sip" and "Smash"—the former is heavier, fuller-bodied wines, while the latter comprises easy-to-drink wines (we're thinking some Glou-Glou). The place is stylish yet cosy, reminiscent of visiting a friend's gorgeous home. Juliet Wine Bar also has a solid food menu, so you can sip or smash with some bites.
Address: Level 1, 18A, Jalan Bangsar, Bangsar, 59100 Kuala Lumpur.
Opening Hours: Wednesday – Monday, 5PM – 1AM. Closed Tuesdays.
This article was first published on grazia.my
For more alcohol reads, click here.




Wilson Lim