In a collaboration between 333 Gallery (Thailand) and ALL ABOUT ART (Singapore), the partnership is proud to present "Life In Space" A Solo Exhibition presented by Thai contemporary artist Jitti Jumnianwai. This is his inaugural international exhibition and it comes after resounding successes in Thailand across multiple sold-out group and solo shows.
Tell us more about the artist and his unique style of work.
Jitti Jumnianwai is a popular Thai contemporary artist based out of Bangkok. He is most affectionately known for his character "Jittirobot" which as its name suggests, is the robot protagonist that brings us through his stories and voyages. What draws collectors and galleries alike is the positive vibes and cheerful demeanor in which the works are depicted, creating somewhat ironic yet heartwarming episodes of a robot displaying or encountering emotions — and reminding its viewers on the warmth and hope this world possesses.
How did you first come across the artist?
I first met Jitti back in 2019 in a Hotel Art Fair in Bangkok. He was exhibiting a wide range of works from canvas, to illustrated skateboards and small robot toys. What drew me to the works was not only the light-heartedness and positive energy of the character, but also the fact that his art was direct and appealed spontaneously to both the mind and the heart. I suppose that struck me immediately as a novice art collector and at that point, it spurred me to collect and more importantly, start working together on showcasing his works to a wider audience. It comes as no surprise that my first ever artwork purchase was from Jitti in his art studio a couple of days later.
What sparked this collaboration between 333 Gallery and All About Art?
"This exhibition has been a long time coming, and in some sense I feel like all things have come full circle (albeit a smaller one) for my art journey so far," said Jitti. We represented Jitti and his works in Singapore for a short time prior to him signing with the most prominent Thai gallery 333 Gallery. Where most gallerists would concur this is most often a signaling of the "end of a relationship", much on the contrary, it was the start of a very successful partnership and now relationship between all 3 parties. Jitti was growing in stature locally in Thailand through 333 Gallery, and when it was time to consider his overseas exhibition — he only wanted to work with us. We work very closely with the owners Khun Land and Khun Nan about leveraging on our resources to make this show a resounding success.
What was the main idea behind the exhibition them  "Life In Space"
The scriptures of life or "Tao Te Ching", once teach us "Shape clay into a vessel, but it is the emptiness within that holds rice and fish." Jitti wanted to explore the concept of External Cosmos – Internal Cosmos. In his words, "We are enveloped by the expansive external world, a vast expanse on our planet that can be perceived through sight and sound, sending sensations to our inner cosmos (the mind), where they are stored according to the passage of time. What does the receptacle for these emotions resemble? Perhaps it is a square container that, when filled to capacity, releases its contents, leaving behind some residue that represents deep-rooted memories." We engage in activities that possess tangible forms, yet it is the intangible that we truly utilize. Thus, the stories, experiences, and emotions layered upon one another within countless containers may hold some value as we continue our journey through life. However, it is equally essential to recognize that, ultimately, life might be nothing more than an empty container. When time comes to a halt, it could be enlightening to reassess the significance of our existence within the external cosmos and the internal cosmos (the mind).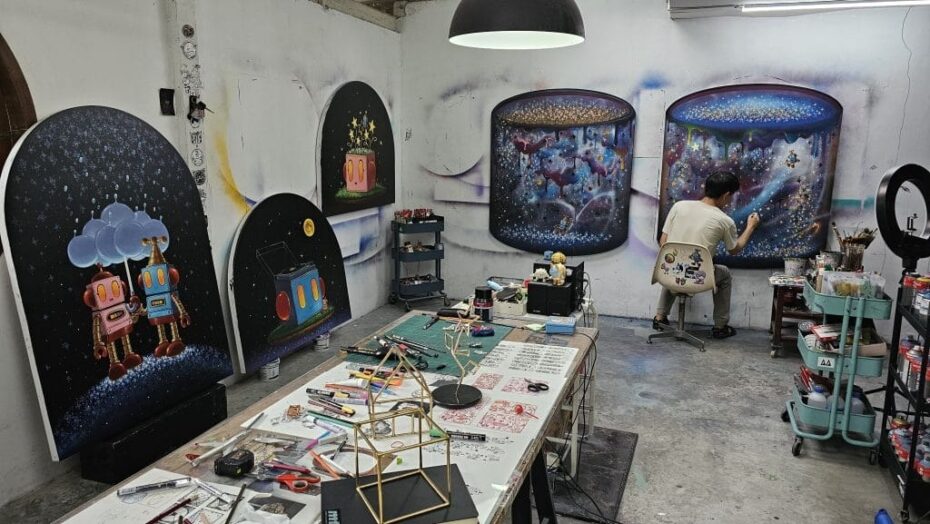 How is the show different from other art fairs or current artist exhibitions?
The art world is changing and we as artists / galleries / curators have to always look farther down the road to anticipate demand and what the audience are interested in. We have seen the rise in creating experiences – going beyond traditional modes of art presentation and creating a deeper level of interaction with the viewer. Therefore, in this show, we have curated a full suite of experiences that engage the viewer on various fronts. There is a brand new collection of original canvas works, life size sculptures, limited edition art toys, Interactive AR room, integrating music with artwork, merchandise / souvenirs, live art painting classes with the artist and many more. All designed in hope of immersing the public in full sensory experience. Our exhibition also opens the same weekend as the Affordable Art Fair 2023, so we are definitely hoping to give art lovers another avenue to appreciate all things art.
Beyond Jitti's solo exhibition, will we see works by other artists in this offering?
Yes! We have chosen Artspace@Helutrans as our event venue for this year. The main hall of 6,000 sqft will house the entire Jittirobot "Life in Space" solo exhibition. We will also be showcasing a group show of additional 30-40 artworks from 333 Gallery's roster of talented young artists that will definitely light up the room. In All About Art Gallery, we will also showcase works by our resident artists that will bring a total of three curations in one viewing.
Can we expect the collaboration between 333 and AAA to be a recurring event?
Both galleries share the same vision of promoting South-East Asian art and bring artists and their works to a higher international stage. "Life in Space" is the first show of many successful partnerships to come, and we cannot wait for you to join us in this first showcase. 
"Life in Space" Solo Exhibition by Jitti Jumnianwai can be visited at Artspace@Helutrans, 39 Tanjong Distripark, #01-05, Singapore 089065.
This article was first published on mens-folio.com
For more art and culture reads, click here.