The Malaysian-based purveyor of extraordinary jewellery HABIB has just unveiled HARTA. HARTA which stands for Habib: Action for Revival of our Traditions Arts, is an initaitive of the renowned jeweller to celebrate Peranakan cultural roots and art. While Habib is renowned for their exquisite craftsmanship, the company also maintaints its commitment to preserving and revitalising Malaysia's traditions and arts. With deep-rooted pride in its Penang origins, Habib aims to educate and engage the public on the opulence of Malaysian culture. HARTA is divided into three components. First, the museum which highlights the gilded traditions of the multi-ethnic Peranakan heritage, with over 800 unique pieces collected over 65 years. Next, the art gallery which compliments the HARTA Museum, operates as an outlet to spotlight the works of contemporary Malaysian artists and artisans showcasing exclusive artworks from 16 talents. This is followed by the café which is where visitors can unwind and taste delicious treats while engaging in discussions about Malaysian culture – past and present.
LUXUO speaks exclusively to Mirsham Meer, Director of HARTA on his passion for contemporary Malaysian art scene, the conceptualisation of HARTA and how he aims to reinvigorate the younger generation on local cultural heritage and the arts.
When did you first get interested in local art?
Growing up my parents exposed us to the arts, particularly Malaysian art, from a young age. They have been collecting for as long as I remember and have formed close relationships with some artists.
They have always been very proud Malaysians and serious about preserving our Malaysian history. They want the future generations of Malaysia to understand our culture, traditions and history.
How did art lead you — together with your family — to think about setting up the HARTA Museum and Art Gallery?
This year marks HABIB's 65th anniversary, and when thinking about what we want to achieve with the brand (beyond our financial goals), we decided we wanted the brand to help Malaysians build more pride in our country, and we thought to do this through educating and exposing younger Malaysians to our traditions and arts – so HARTA was born.
Did this connect you to your on heritage and that of your grandfather who founded the Habib Group?
Absolutely! My grandfather started the business 65 years ago and played a role in how the jewellery industry was shaped in Malaysia, particularly in the Northern states like Penang, Kedah and Kelantan.
He was a proud Malaysian and would have loved to see our traditions and heritage continue onto the younger generations.
What led you to develop such a strong passion on the contemporary Malaysian art scene?
In addition to the exposure we had growing up, I lived in the United Kingdom for a number of years where I was exposed to some of the greatest artworks in history (the Tate Modern was literally a 10 minute walk from my university). This is where I got really excited about the art world. It became an obsession. Moving back to Kuala Lumpur in 2019, I wanted to really get to know the art scene here and get to know gallerists and artists. It also felt like a really interesting time to be part of the scene as there were a lot of younger people getting into the scene – as artists, gallerists, collectors, or just enthusiasts. New galleries were popping up every few months, there were new shows to go to every weekend. It was really exciting!
Malaysia has numerous talented artists. Where and how do you find new artists to exhibit and what do you look for when considering a new artist for your gallery?
We have two main aims for our gallery space:
To provide more exposure to Malaysian artists
To encourage newer people to appreciate Malaysian art.
Therefore, when considering what shows and programming to do for the space, we keep in mind that the show has to be simple, easy to understand and attractive for new art enthusiasts. We want to exhibit both emerging and established artists – for different reasons. We feel that giving more exposure to emerging artists can help build their careers, but also exhibiting more established artists can be interesting for people to see and also to inspire young artists.
You seem to greatly enjoy engaging and communicating with a younger generation of art lovers – tell us more about this endeavour.
We want younger Malaysians to be more excited about our heritage and our arts – as I mentioned earlier, we want to help build up pride in our country, particularly amongst younger Malaysians.
Our country is so rich in history, and our cultural history is so diverse. Additionally, we have so many fantastic artists telling their own stories through their art. I truly believe a lot of our artists are world class but just haven't had the opportunities to step up to that level. We are hoping that whatever we are doing can help contribute to that next stage of growth for Malaysian art.
Tell us about the exhibitions currently staged at the art gallery, based on the symbolic idea of a home?
At our gallery, we don't curate the shows ourselves as we prefer working with external curators and galleries who have a more discerning eye in the art scene. Our first show was curated by Aminah Ibrahim, a freelance curator in KL (previously with A+ Gallery).
HARTA's first exhibition is called Open House. The exhibition explores Malaysian domestic spaces as inspirational and aspirational, offering a closer look at the treasure of everyday. It features multimedia work by artists Azzah Sultan, Bayu Atom Radjikin, Chong Yan Chuah, Fawwaz Sukri, Gan Tee Sheng, James Seet, Nadirah Zakariya, Raimi Saini, Umi Baizurah, Yuki Tham as well as works from HARTA's own collection by Ahmad Zakii Anwar, Atiqah Khairul Anwar, Ismail Awi, Jalaini Abu Hassan, Lee Long Looi and Yee I-Lann. The exhibition, much like a home, is divided into several "rooms": Kitchen, Living Room, Bedroom and Garden, with each room investigating different arenas of domesticity. Guests are invited to roam as they please and delve into the many narratives, objects, technology, emotions and histories displayed by the artists.
Open Houses hold significance in Malaysian culture where we welcome family, friends and acquaintances into our home. It felt important to introduce HARTA in a way that was accessible and welcoming.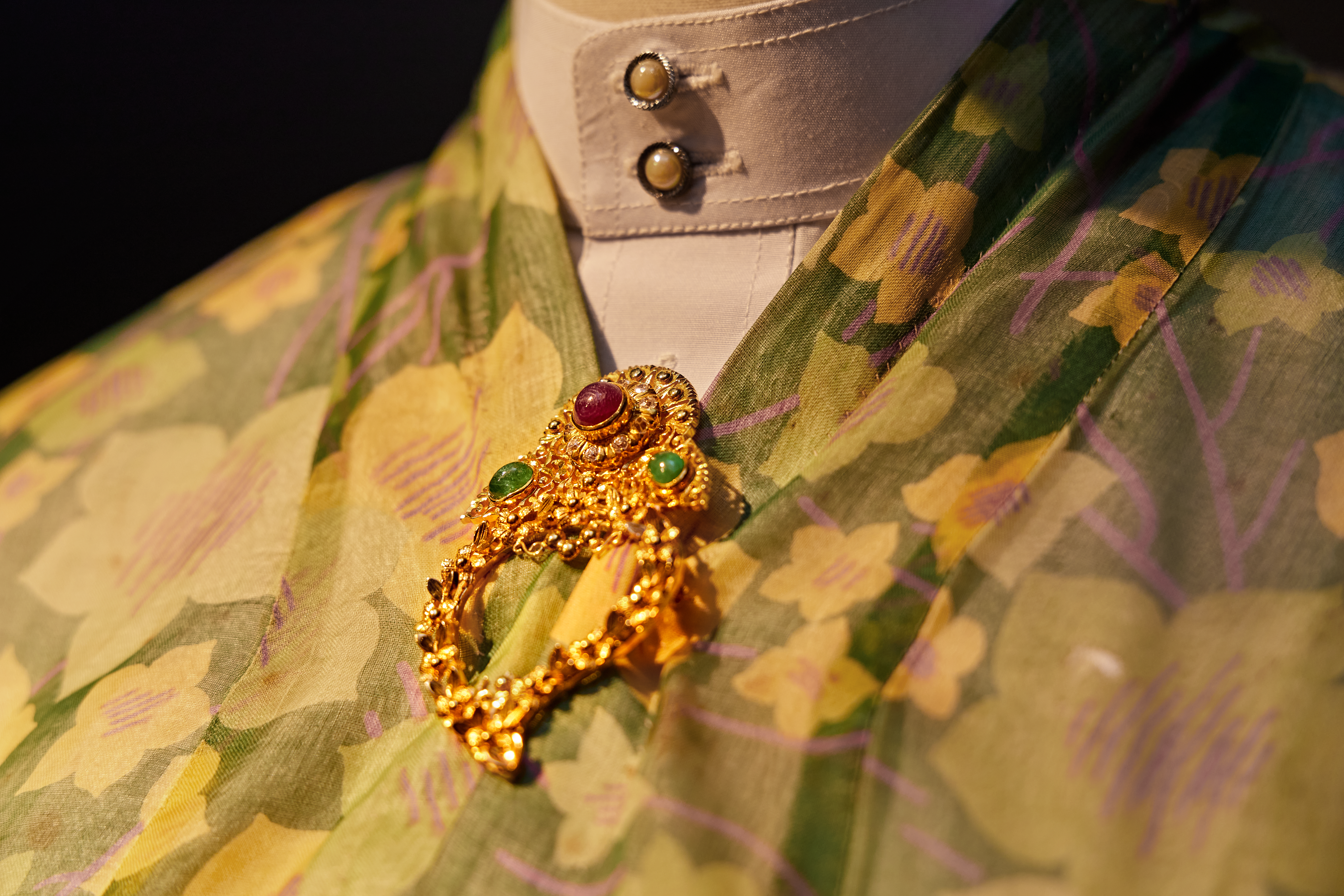 Tell us more about the amazing artwork you have commissioned from Najib?
Najib Ahmad Bamadhaj is such a fantastic artist and I'm a big fan of his work. We commissioned him to create the "Kebaya Series", a special artwork featuring three models of different races wearing traditional Kebayas and Peranakan jewelleries that are part of our museum collection. The kebaya is such a unique yet universal part of our culture because anyone can wear them, so we felt this was a great metaphor of what HARTA stands for – a creative space for all Malaysians to appreciate our art and traditions. It is a mixed art piece that incorporates charcoal, acrylic paint, kebaya cloth collages and Meranti board – all materials which bring its own identity and personality. It's also one of the first artworks you see when you enter HARTA.
How important is the presence of the Café in the whole HARTA concept?
HARTA Café is a little café within our space. It serves specialty coffee, matcha, chocolate and some pastries and sandwiches too. The space serves a couple purposes such as being a hangout space for gallery/museum visitors to chill after browsing; and also to attract people to come up to the space and hangout. By attracting visitors to the café, we hope that those visitors will pop into our gallery or museum spaces after.
In the café, we also feature artworks from Malaysian artists rotating every few weeks. The artworks aren't curated to any particular theme, but more just fun artworks that we like and want our customers to see.
What is planned for the art gallery across 2024?
We have a series of shows and educational events planned. We will partner up with other galleries and institutions to provide a wide range of shows including solo shows for emerging and senior artists. We also plan to have educational workshops and talks covering topics around Malaysia history, culture, fashion, film and many more!
What is your favourite museum in Malaysia?
Do I have to pick one? To be honest, there are so many amazing museums in Malaysia – public and private.
Of course, our Muzium Negara is fantastic and I encourage everyone to drop by when they visit. The Islamic Arts Museum in KL and the Borneo Culture Museum in Kuching are also both amazing! Must visits!
What are your recommendations for art lovers heading to Kuala Lumpur and wanting to experience the art scene in the city?
Again, so much to choose from!
I think the Ilham Gallery is fantastic. The quality of the curation is world class and I love that we have an institution like that in Malaysia. For those that want to see more Malaysian artists, the National Art Gallery, Bank Negara Malaysia Museum, G13 Gallery and Rissim Contemporary are really interesting. A+ and Taksu feature regional artists and their shows are also superb. Lastly, there are some amazing private collections on display in galleries like UR-MU and Galeri Z.
If you were to name one mentor who has inspired you in your life, who would that be?
I can't say one without the other, but I'd definitely say my parents. Not only because of their dedication to this project, but throughout my life they've been amazing examples of how to work hard to achieve success, whilst remaining humble and completely down to earth. Their kindness and dedication to the people around them is very inspiring and I hope that through our work, we not only preserve our Malaysian heritage and traditions, but also preserve their legacy that they've built together.
Details on the HARTA showspace are as follows:
Address: Habib Jewels Sdn Bhd, Lot 93-95, Ampang Point, Lorong Mamanda 2, 68000 Ampang, Selangor.
Opening hours:
HARTA Museum & Art Gallery: 10AM – 5PM (Monday – Sunday)
HARTA Café: 8.30AM – 5PM (Tuesday – Friday), 10AM – 5PM (Saturday – Sunday)
For more on art features and exclusive interviews, click here.