"We design a new movement for every single piece," says CEO of L'Epée Arnaud Nicolas on how he conceptualises his design ideas. "Mixing mechanics and art" Arnaud often takes inspiration from unlikely sources including the automotive world of sport racing and classic cars. Arnaud speaks to LUXUO on future brand collaborations, his upcoming exhibition at the Singapore Watch Fair 2023 and a surprising anecdote on how L'Epée was closely associated to the wedding of Prince Charles (now Kings Charles III) and the late Lady Diana in 1981.
When did you first get interested in watchmaking and how did you become the head of this very unique Maison, L'Epée based in Delémont?
I always have been interested by everything that was mechanics. Car engines, watches, tools, almost everything that have motions. And when I was a kid I broke my mechanical watches that I had for my sixth birthday, I was around seven if I recall it right. So this was the first time I saw a watch mechanical movement — that was when I started to like them and like to dismount them. But as I love sciences in general, I studied science and got a master degree in science and engineering. I did not go through the "traditional" watchmaking process. After starting working in the space industry for about a decade, I bought out L'Epée with the idea of manufacturing new design kinetic pieces of art. And this is how the story started. In 2009.
L'Epée was founded in 1839 – yet it is one of the most innovative watchmakers in terms of design and horological innovations today. Tell us more about this intriguing paradox?
 L'Epée as you said is one of the oldest watchmaking brand in the watch industry that had never stopped. The manufacturing was never stopped but just because you are an old brand with a strong history that does not mean you cannot be innovative. Most people think that DNA is about the shape of hand and dials or case shape. For me DNA is much more than that. L'Epée has always been in the forefront of watchmaking. L'Epée has always been an un-calculus number of patent in its history and has got a couple of very interesting rewards. Like the International gold award that is given by scientist to a company that has made a major step in a field. And L'Epée has got six of them. I do not know a company that has any.
So to make a long story short. L'Epée has always been at the forefront of watchmaking and has always shown its mechanics through windows as a proof of its quality. We simply use this ethos, and for me this is a true DNA, to launch a new line. The Creative Art line. In this line we make kinetics pieces of art that takes time to craft to deliver new creations that are out of the box. But this is what every engineer is doing when creating a new invention. We just apply this thought process to our "out of the box" designs.
Read More: L'Epée 1839 and The Unnamed Society Create An Unimaginable Timepiece
You stated "an artistic piece should shock, evoke or inspire people", is this your daily mantra at L'Epée?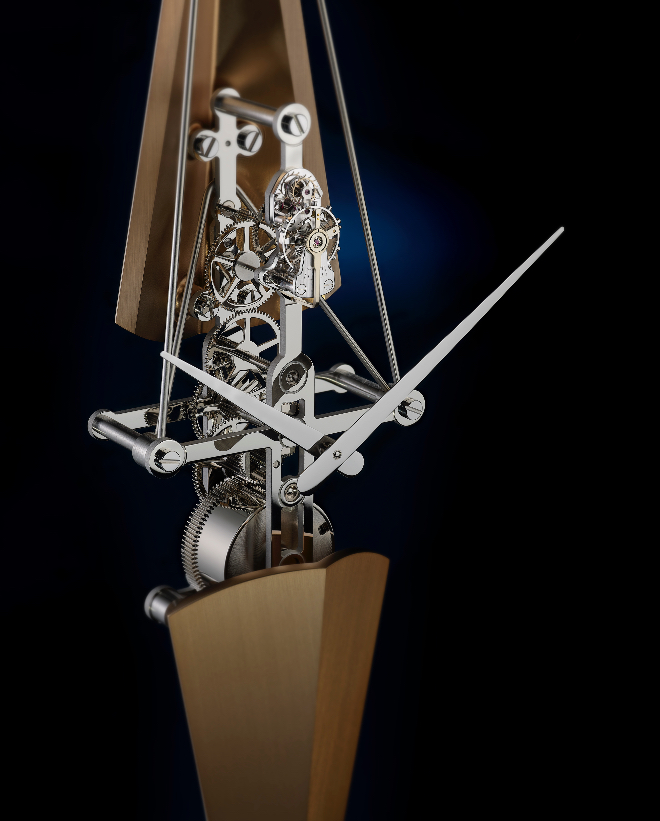 Yes this is our mantra. To do a piece that expresses a message. Doing something unexpected but with a message. Besides being nice, a piece of art has only one purpose: to make the people think. And there are three ways of doing it. By inspiring, evoking or even shocking. But whatever the way, the message is what is the most important.
Arnaud Nicolas and Max Büsser: tell us about your initial encounter with Max and the first creation which ensued, The "Starfleet Machine"?
Max and I have been friends for a long time and as I was looking at doing something new and unexpected for the 175th anniversary to implement within my new line, Max was looking also to do something unexpected. This was the perfect match. We were both looking into the same direction for the product and we both have the same philosophy in terms of what a partnership is and how we like to treat our customers. In fact we have a very close philosophy on this topic, that it seems evident to start doing something together. This is how the first pieces started and why we have continued to make new once.
Are more collaborations planned ahead with MB&F?
Yes we are making a lot of collaborations. MB&F is one of them but it may also be the one that I spoke the most about, which is great. If you look into what we have made those last 14 years, you will find a lot of names.
Has L'Epée fully blurred the differentiation between watchmaking and art?  
This is what many people are saying. On my side I would prefer to say that watchmaking is part of the art and we have just went one step further by transforming it in 3D.
Among L'Epée's most popular models is the Arachnophobia, which boasts a stunning spider-shaped movement with an intricate web of gears and components. Is this one of your most complex creations?
Actually, this is the opposite. The Arachnophobia is one of the most simple models we have made. The Time Fast or the Time Fast II are much much more complex models.
Read More: Birth of the L'Epee Revolver Clock: The Bang created with The Unnamed Society
The L'Epée 1839 timepiece is designed to look like an intricate grenade and functions as a traditional desk clock. How did this rather daring design idea come to life?
These design usually comes to my mind when I am quiet at night. I like to do my creative work at night when everyone is asleep. I find my inspiration through everything that surrounds us. It can be an object or a film or a shape… and from then the process of creation starts with the first step is what do I want to express with that creation. What is the story I want to tell, the message I want to show… Which is the exact opposite of what everyone else is doing. Usually the project starts with a movement that is well engineered and produced in massive quantity, then the designer comes and builds up a case and the perimeters or "housing" around it and it comes to the marketing team to build up a story to be able to sell the object. What we are doing is just the opposite. We start with the story and then we do the engineering of the movement at the same time as the housing which allow us to mix form and function, and to avoid any compromise. We do not have a big box inside that we have to work with. We design a new movement for every single piece.
We have many readers who are passionate about classic cars. Tell us more about the Time Fast II creation?
Time Fast II is an exceptional object. Time Fast II is inspired by racing sports cars of the 1960s, a golden era of long-distance automotive competition. The name Time Fast II references the fact that it is a 2-seater car, has two movements (one for time and one for the engine automate), racing cars are getting faster, modern time seems to be running faster, and it is L'Epée's second car inspired clock. When I say L'Epée 1839 likes to mix form and function, the Time Fast II is a good example as we all know about cars, so you will be able to figure out by yourself how far we are going.
To start with, the floor and body are screwed to a H-chassis as in their full-sized counterparts. The body of Time Fast II is in aluminum because in the 1960s, aluminum was the high-tech material for racing cars as carbon fiber is today. An aluminum body on a race car offers a higher power-to-weight ratio, shorter braking distances, and faster cornering: all winning attributes in a sports car. Then the body is coloured with the official colour of the country of teat era. British racing green for great Britain, silver for the German ones, red for the Italian, blue for the French.
Hours and minutes are displayed by rotating stainless steel disks on the air filters feeding the dual carburetor banks on top of the engine. The 8-day movement is regulated by a visible 2.5 Hertz escapement in the "driver's helmet" and powered by a mainspring visible in the passenger's "seat".
Why placing the escapement as the brain of the driver, simply because it is the driver that give the precision of the car whereas it is not the owner that give the precision of the watch but the escapement. Then, next to the steering wheel on a dashboard there is usually a key to start the engine. On our car, turning the dashboard key starts the engine, triggering the pistons of the V8 to go up and down. The piston been located just below the time display.
We have named our car Time Fast 2 for several reasons. First because it is our second car, next because it is a two-seated car but also because there is two movements in it. One for the time display and the second one for the V8 automaton. Another detail that we can find on almost every car of this era: the gear level selector. A manual gear lever selects between winding the time movement, winding the engine automate or neutral. And the Winding is accomplished by selecting the appropriate gear — and as when I was a kid, I grew up without the electronic car but only with the mechanical toy car — we set the system to rewind the car within the wheels to transform it as a pull back car. You rewind the car by pulling the car backwards as the car of your childhood.
And just to highlight how much meticulous attention to detail L'Epée put into ensuring that Time Fast II is as accurate as possible to the cars that inspired it, the stainless-steel spoked wheel rims are crafted just like the real racing wheels were in the 1960s. The tires are in soft rubber for optimal grip when winding the movements and filled with a carefully selected foam compound so that the tires are slightly flat on the bottom to the same degree as real sport's car racing tires on a real car racing tracks.
L'Epée will be exhibiting at the Singapore Watch Fair 2023, which exciting creation(s) will you present there?
We will have a nice selection of pieces. I do not want to disclose them all as we want everyone to be surprised but we will have two different clocks inspired from two different sport racing cars.  
What is planned for L'Epée across 2024?
We will continue to do what we are trying to do as best as we can. Surprising people with unexpected objects.
Where do you see this incredible Maison 10 years down the road?
We will continue to do what L'Epée has always do. Working on making the most beautiful objects mixing mechanics and art. Our goal is to remain exclusive and to ensure our object keep value overtime.
On a lighter note, can you reveal to our readers how L'Epée was closely associated to the wedding of Prince Charles and Lady Diana in 1981 — quite a fascinating anecdote?
In fact, L'Epée was selected to manufacture one of the gifts for the wedding guests. L'Epée was also appointed as one of the official suppliers of the English Royal court for the official gifts given to the elite guests that come to visit the royal court of England. And this was for the 10 maximum years that is allowed by the English royal rule.
If you were to name one mentor who has inspired you in your life, who would that be?
My grandfather, but this is another story a very long one and I do not really like to speak about myself…
For more on the latest exclusive interviews, click here.