The fashion industry has made international headlines from luxury designers making high street collaborative collections to widely-recognised 90s supermodels' endorsements, and it so happens to have coincided as we reach this year's Spring/Summer fashion week calendar. As lead up to the coming New York Fashion Week, LUXUO looks back at the impactful movers and shakers that have caused ripples in the fashion industry.

Noteworthy Collaborations And Appointments
Helmut Lang helmed of his eponymous label from 1986 to 2005 and during that tenure Prada acquired a 51 percent stake of the company in 1999 before acquiring it completely in 2004. Between 2001 and 2004 saw the brand sales drop from US 46.3 million dollars in 2001 to US 24.8 million dollars in 2004. Since Lang's departure in 2005 a slew of creative directors were brought in, each with their own take and sensibility however one concesus remained – the brand still lacked a clear direction. Enter Peter Do. As reported by Hypebeast, Do will showcase the Spring/Summer 2024 collection for the brand later this month during its showcase at New York Fashion Week (NYFW) and this will be Helmut Lang's first NYFW runway show since 2020. So will Do deliver in ways his redecessors could not? Peter Do's work combines mysticism and miminalism with a dynamically contemporary take. While time will tell if he can bring the "brand back to its former glory", his creativity to go beyond predictability to the realm of provocative (from his tailoring to his silhouettes and fabrications) certainly make him a contender.
Just months after it was annouced that Peter Do would take over Helmut Lang as the label's new creative director in May, Banana Republic annouced last month that Do would come on board to release an exclusive collaborative capsule collection. Set to be released both online and in physical stores this October, the collection will include a reimagined take on "Banana Republic's quintessential shapes" with pieces ranging from structured outerwear to soft knitwear and utility silk shirting.
It is also interesting to note that Phoebe Philo the designer who took Peter Do under her wing at Céline is also making her return to fashion with her own independent fashion house with her inaugural collection set to be unveiled in later this month.
Read More: Luxury Fashion's Ever-Changing Creative Directorships
Claire Waight Keller on the other had, has been tapped to launched a collection With UNIQLO. The 30-piece collection is comprised of a range of versatile, relaxed selections including outerwear, tops, skirts dresses and more.  "… I also wanted to bring my sort of British sensibilities—the fact that I've always loved a little bit of this boy-meets-girl style, and the idea of attitude dressing," Waight Keller told Vogue.
In celebration of the 20th anniversary of the Billionaire Boys Club, the Pharrell-founded luxe streetwear label unveiled their highly-anticipated Moncler collaboration.
Read More: Why Does Fashion Love Collaboration?
The Year of Pivotal Acquisitions 
After coach-owned Tapestry announced that it was acquiring Capri Holdings, the Q4 fiscal year saw earnings fall short of expectations. The acquisition was initially intended to create a new fashion conglomerate to rival that of Kering and LVMH. According to Hypebeast, Tapestry reported sales of US $1.62 billion dollars, down from last year's US $1.625 billion dollars and even further behind Wall Street's estimate of US $1.653 billion dollars. 
Read More: Luxury American Company Tapestry to Acquire Capri Holdings in a Bid to Rival European Luxury Conglomerates.
The Return of the 90s Supermodel
The famed foursome comprised of Naomi Campbell, Cindy Crawford, Linda Evangelista and Christy Turlington reunited once again to front the joint British and American September 2023 Vogue covers.
This comes over two decades after Peter Lindbergh's January 1990 cover of British Vogue which is perhaps one of the most prolific editorial and fashion magazine covers of all time. The 1990 cover also featured the late Tatjana Patitz who passed away earlier this year.
Alongside the cover of Vogue, 90s supermodels have also made a resurgence by becoming the ambassadors of multiple luxury brands. Naomi Campbell is the face of Boss' Fall/Winter 2023 Campaign, Cindy Crawford fronts MCM's Autumn/Winter 2023 campaign while Kate Moss is currently featured on both Diet Coke and Saint Laurent's Fall 2023 campaigns. Last year also saw Linda Evangelista face the Fendi Baguette Winter 2022 Campaign while Kate Moss posed for Aigner's Fall/Winter 2022 campaign. Take Kate Moss for instance, to continuously front a luxury campaign year after year is a testament to her staying power and legacy even with a large beverage brand like Coke (regardless of the "luxury" appeal).
The Diet Coke Break Collection By Kate Moss features four limited-editions designs, inspired by Diet Coke's archives, reimagined and rewritten by Kate Moss.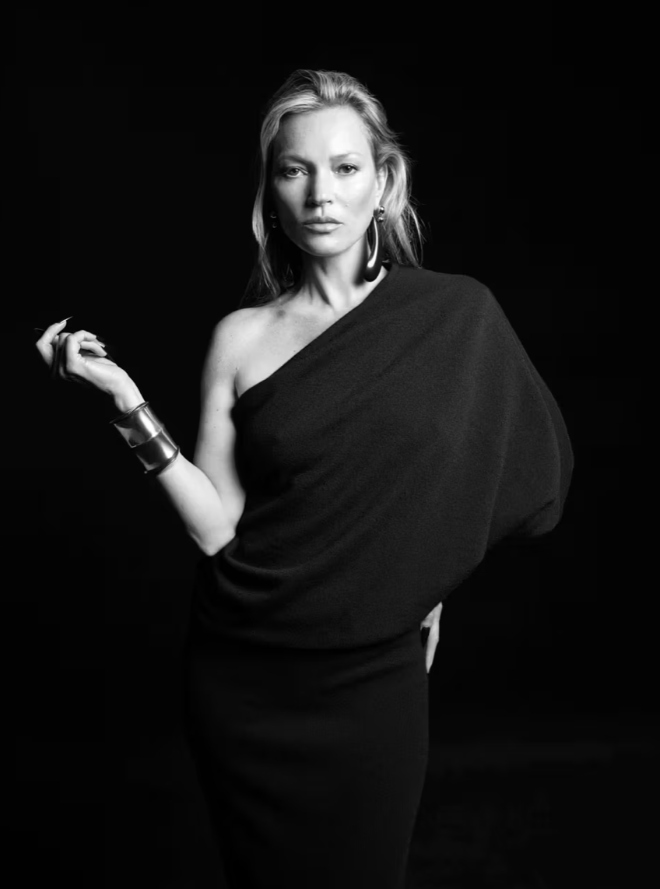 So why now you may ask? While Gen Z are enamoured wth the Y2K fashion trends of the early 2000s (a "style" that Millennials are all to familiar with having grown up during the era), Gen Xers are seemingly left out as brands shift their aim to the burgeoning market of younger, Gen Z consumers at times alienating the Gen X demographic. That's where nostalgia comes into play. Staple faces parents of millenials grew up with like Moss or Crawford connect a relevancy in the generation and cater to the nostalgia.
For more on the latest in fahion and style, click here.




Sanjeeva Suresh